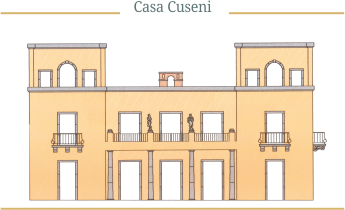 An English Lord's House on the Island of the 'Gattopardo'
Owing to its notable historical and artistic value, it has been recognised as an Italian National Monument. The dining room of the villa is considered one of the best examples of the Arts and Crafts Movement in the world.
Built at the beginning of the twentieth century, Casa Cuseni has been an international artistic centre that has hosted celebrities from the world of literature and painting, from Ernest Hemingway, who wrote his first short story here, to Anatole France, Tennessee Williams, Roald Dahl, Ezra Pound, Denis Mack Smith, Sir Frank Brangwyn, Sir Alfred East, Pablo Picasso, Salvador Dali, Sir George Clausen, Henry Faulkner and many others again, even in recent times.
The Villa has one of the most important theosophical parks in Europe. The construction in this garden of a Temple of King Solomon, of a gigantic Menorah, of three Mikvehs for ritual baths, of a pathway of purification designed by Giacomo Balla and Fortunato Depero, of an initiation path based on the model of the Divine Comedy, has made this space a place of resistance against the colonialist ideology of the great world empires, of brotherhood and peace.
Here Lord Bertrand Russell conceived the pacifist manifesto against dictatorships and wars in the world, Danilo Dolci theorised his non-violent resistance, Robert H. Kitson took up John Ruskin's theories on climate and environmental sustainability, fighting against the consumption of the planet's resources.
In 1950, Casa Cuseni became Sicily's first historic House-Museum and in 2016 the Museum of Fine Arts and the Grand Tour of the City of Taormina.
Casa Cuseni Maison de charme